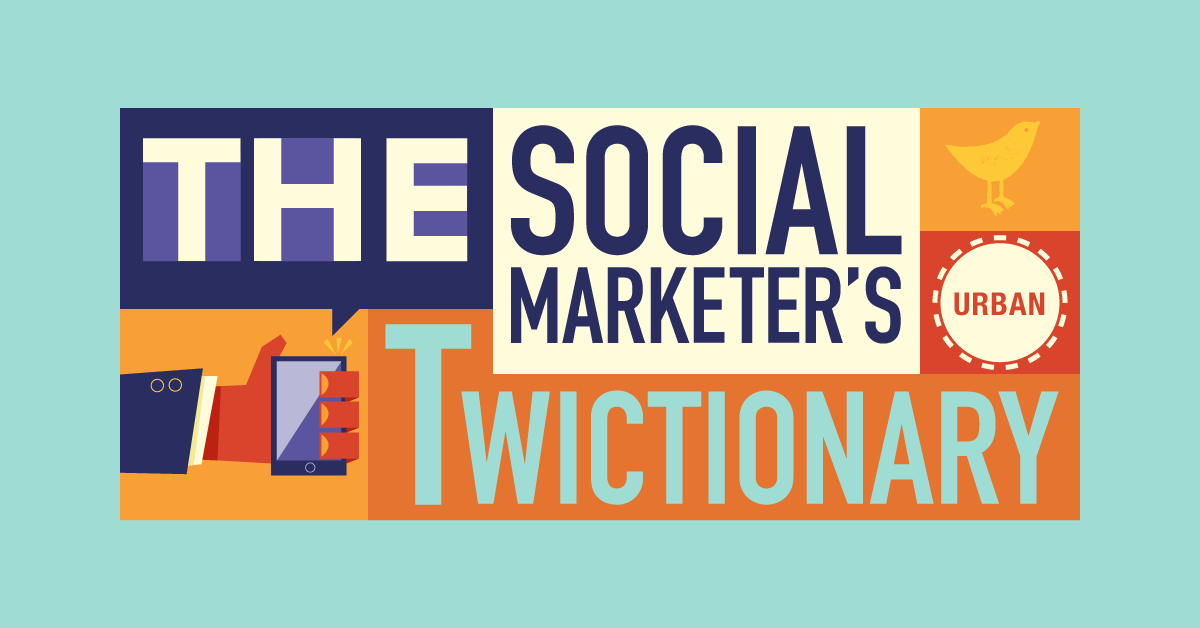 Need a Twictionary?
It's a cool way to learn Twitter lingo!
Check out this infographic from Marketo and impress your friends

The Twitter terms on the infographic:
Attwicted: The act of being addicted to Twitter.
Bird-of-Mouth Marketing: A loose form of Twitter-based marketing where you rely heavily on Twitter users to share your content with others.
Detweet: The tweet you composed but then erased, for any reason, before posting.
Dweet: A nearly incomprehensible tweet that is posted by an individual who is incredibly intoxicated.
PTT (Peak Tweet Time): The window of time during any given day when Twitter activity is at its highest and marketers seek ultimate tweet visibility.
Politweet: A politically charged tweet that is likely to offend most, if not all, readers.
Repeatweet: A tweet that is sent more than once because the composer believes the content of the message is especially marketable.
Twalker: A person who creates a Twitter account for the sole purpose of stalking someone.
Twantrum: An especially annoying rant or tantrum thrown via Twitter.
Tweet Cred: Accolades received from a celeb on Twitter, which earns you new followers, Web traffic, and general credibility for your brand and product.
Tweetup: A gathering, usually for networking purposes, that is planned on Twitter by a group of Twitter users.
Twillionaire: A person who became filthy rich because of his or her personal marketing skills on Twitter.
Twitteratti: A portmanteau of the words "Twitter" and "glitterati," these are Twitter's perceived A-listers, whom other users want to follow or by whom they wish to be followed.
Twypo: A misspelled word that completely changes the tweet's meaning.
Twurvey: An informal survey conducted on Twitter that is typically used for marketing purposes.
Pin the Twictionary infographic and brush up on your Twitter lingo!

View Source
Originally posted 2017-01-01 15:03:27.