Super Bowl 50 is this Sunday, February 7, and it is a notable year. Not only is it the 50th anniversary, it's also the first year the Super Bowl isn't using roman numerals. (In case you were wondering, 50 is L in Roman numerals, which the NFL will resume again next year.) Naturally, America's biggest game will be the highlight of the weekend as Beyoncé joins Coldplay at halftime, and the Carolina Panthers face off against the Denver Broncos.
In preparation for the big game, we've gathered a few infographics that give a little insight into what may happen this weekend—and may even help you make some money on your bet.
Broncos vs. Panthers
After an exciting season, the two teams are squaring off. If you need a debrief of the stats, here you go.
Via Sport 360
Peyton Manning's Super Bowl Track Record
Peyton Manning is heading to the Super Bowl for the fourth time in his career. How well is he likely to do? This infographic breaks down his previous performances.
Which College Produces the Most Super Bowl Players? 
In its 50-year history, the Super Bowl has showcased players from a total of 393 colleges. However, some schools have churned out more successful players than others.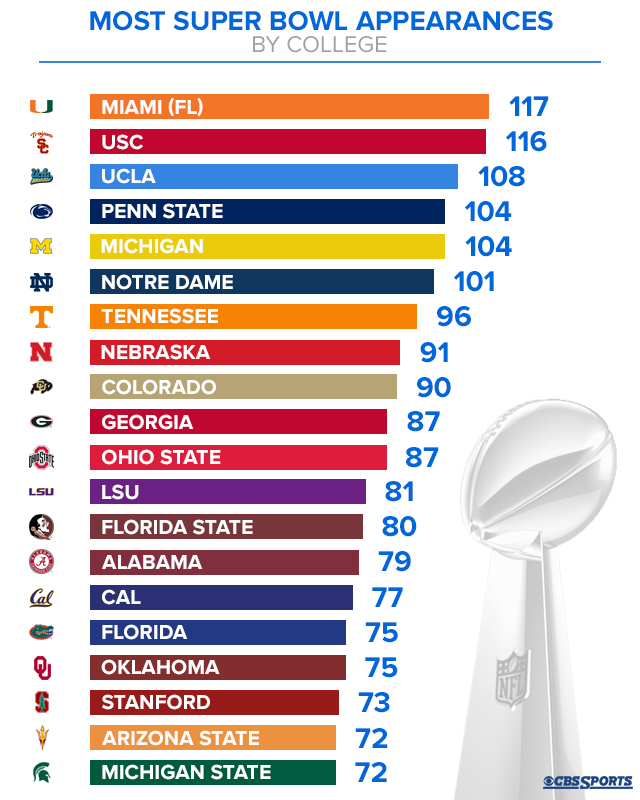 Via CBS Sports
Betting Stats
If you want to make some bucks, here are the team's histories to place your bet.
Via My Bookie
Best of luck to your team!
View Source
Originally posted 2016-02-07 04:11:27.